EARLY LIFE
Noma Diane Gurich was born in South Bend, Indiana to John and Ramona Gurich. She grew up with her younger sister, Marianne, her older brother, Raymond, and a cousin, Patrick. Her brother has one son, Aaron and he has three children. Justice Gurich grew up in a rural farming community located in St. Joseph County near Mishawaka, Indiana. She attended elementary through high school in the Penn-Harris-Madison consolidated School District. She graduated from Penn High School, having participated in many activities including girls' basketball, various clubs and concert, jazz and marching bands. She recently was awarded a 2012 Distinguished Alumni Award from her high school.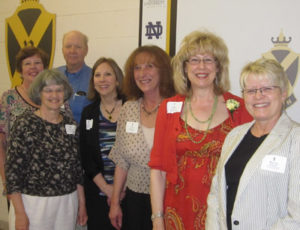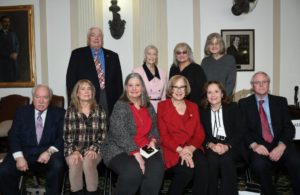 PERSONAL LIFE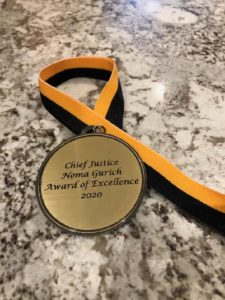 Justice Gurich is married to John E. Miley, who retired as General Counsel for the Oklahoma Employment Security Commission in 2020. He is currently working for the U.S. Department of Labor.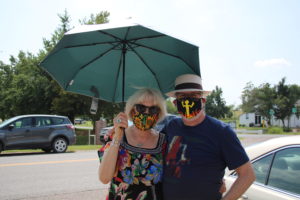 COLLEGE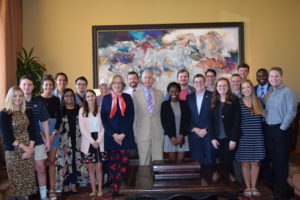 Justice Gurich attended Indiana State University in Terre Haute, Indiana, until her graduation. She majored in Political Science and minored in History. She was awarded a B.A. degree Magna Cum Laude. Gurich was selected for the Dean's Honor Roll and Who's Who of the Junior Class. She was involved in student government, Model United Nations collegiate competition, and jazz, marching and concert bands.
Justice Gurich is a life member of the Indiana State University Alumni Association. In October of 2012, she was honored as a Distinguished Alumni of Indiana State.
LAW SCHOOL
Justice Gurich graduated from the University of Oklahoma College of Law in Norman, Oklahoma. While in law school, she served on the American Indian Law Review and was a Third Year student representative on the Law School Board of Governors. Justice Gurich is the first justice to have served on the OU College of Law American Indian Law Review while she was a student in law school.
Gurich was selected by a vote of her peers to receive the Professional Responsibility Award. She also served as a student judge on the University of Oklahoma Superior Court. She finished in the top one-third of her class.
In 2011, OU College of Law Chapter of the Order of the Coif academic society selected her as an honorary member. In 2016, Justice Gurich was inducted into the OU College of Law Order of the Owl Hall of Fame in 2016.  She serves on the OU College of Law Board of Visitors.
LAW SCHOOL EMPLOYMENT
Justice Gurich was employed during law school on campus for the student government association her first semester. She was employed by the Student Legal Research Board during all three years of law school. Gurich was employed by the Oklahoma Department of Transportation Legal Division in 1976. She also worked as a student assistant for the Oklahoma Court of Criminal Appeals from 1976-1977 and again in 1978. Gurich was employed as a student assistant for the United States Attorney for the Western District of Oklahoma from 1977-78, working under acting U.S. Attorney John E. Green.
LEGAL CAREER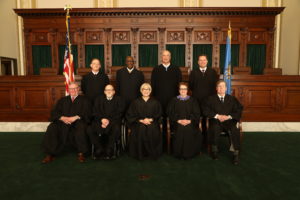 Upon graduation from law school, Gurich was admitted to the Oklahoma Bar on October 13, 1978. She became an associate in private practice with the firm of Cheek, Cheek and Cheek in Oklahoma City. In 1982, she became an associate with the firm of Abowitz & Welch, in Oklahoma City. Gurich later became a partner and worked there until 1988, when she began her judicial career. She was admitted to practice in all courts of Oklahoma, and the following federal courts: U.S. District Court for the Western District of Oklahoma, U.S. District Court for the Northern District of Oklahoma, Tenth Circuit Court of Appeals, and the U.S. Supreme Court. Her private practice experience included the defense of negligence and tort cases, products liability cases, anti-trust cases, securities fraud cases, contract cases, workers' compensation and general practice.
JUDICIAL CAREER
Gurich served on the Oklahoma Workers' Compensation Court for ten years. Gurich was appointed by Governor Henry Bellmon to serve a six-year term in July of 1988. Governor Bellmon appointed her to the position of Presiding Judge for two terms: January 1989 until January 1, 1993. In July 1994, Judge Gurich was re-appointed to a six-year term by Governor David Walters, and served until her appointment to the district court.
While a judge on the Workers' Compensation Court, she served as an advisory member on Legislative committees including the Special Joint Interim Study Committee on Workers' Compensation Reform: 1989-1990 and the Workers' Compensation Medical Cost Containment Task Force: 1992-1993. She also served on The Lieutenant Governor Fallin Commission: 1996-1997.
Gurich was also actively involved in various procedural changes and revision of Court Rules, as well as the improvement and expansion of the court facility in Tulsa. She was a frequent speaker for the Oklahoma Safety Council, continuing legal and insurance education programs, and participated in many programs sponsored by the OESC, Chambers of Commerce, and Vocational and Technical Schools throughout the state. While serving as a Workers' Compensation Court Judge, Gurich was an organizer and participant in annual educational conferences sponsored by the Workers' Compensation Court for the business community and for medical and vocational rehabilitation professionals.
DISTRICT COURT
Justice Gurich began her career as a District Judge on July 1, 1998, when she was nominated by the Judicial Nominating Commission and appointed by Governor Frank Keating to serve the remaining six-month term of a retiring district judge.
After the appointment, Gurich drew 3 opponents and was successful in winning the contested election for District Judge, Oklahoma County, Seventh Judicial District–Office No.13 (county-wide seat), in November of 1998. She was re-elected in 2002, 2006, and 2010 without opposition.
Since she began her career on the District Court bench, Gurich continued to be a frequent speaker, panelist, and the author of articles and materials for continuing legal and other legal education programs. Gurich was instrumental in the preparation and enactment of the May 2000 revision of the Local Court Rules for Oklahoma and Canadian Counties.
District Judge Gurich presided over more than 190 jury trials and decided hundreds of non-jury matters while she served on the district court bench.
Gurich served as Presiding Administrative Judge of the 7th Judicial District from January of 2003 to December 31, 2004.
As a District Judge, Gurich also served as the Presiding Judge of the 11th and 12th Multi-County Grand Juries (2007-2010). She served as a District Judge until February 15, 2011.
THE SUPREME COURT OF THE STATE OF OKLAHOMA
Justice Gurich was appointed by Governor Brad Henry on January 7, 2011 and took the oath of office on February 15, 2011. Her formal swearing in ceremony took place on March 31, 2011. She serves in Judicial District 3.  Justice Gurich served as Vice Chief Justice from December 2016  to December of 2018.  She served as Chief Justice from January 1, 2019 to December 31, 2020.
HONORS AND AWARDS
While serving as a district judge, Gurich was the Law Day 2002 Co-Chair for the Oklahoma County Bar Association, and was awarded the 2002 Outstanding Committee Award. She received the 2003 Mona Salyer Lambird Spotlight Award from the Oklahoma Bar Association Women in Law Section. Gurich received the Layperson of the Year Award for 2003-2004 from the Texas-Oklahoma Kiwanis International District. She was also chosen by the Texas-Oklahoma District 19 as Layperson of the Year Award for 2003-04. Gurich also received the Community Service Award from the Kiwanis Club of Oklahoma City for 2003-04. She has been a three time Journal Record Honoree for Woman of the Year (2005, 2008 and 2011). In 2011, Gurich was inducted into the Journal Record Woman of the Year Circle of Excellence. Justice Gurich is an honorary member of the Oklahoma Chapter of the Order of the Coif, and was awarded the 2011 Judge of the Year award by the Oklahoma Chapter of the American Board of Trial Advocates. In 2013, Justice Gurich was honored by the Oklahoma City Chapter of the Association of Women in Communications with a Byliner Award for Civic Leadership. Also in 2013, she was named a Valuable Volunteer Award by the Foundation for Oklahoma City Public Schools. She was named been honored as distinguished alumni by her college, Indiana State University, her high school, Penn High School, and was inducted into the University of Oklahoma College of Law Order of the Owl Hall of Fame in 2016. She is a graduate of the 2016 Salt & Light Leadership Training Class 8. In 2019, Justice Gurich was inducted into the Oklahoma Women's Hall of Fame.  In 2019, she was inducted into the Oklahoma Women's Hall of Fame.  In 2020, she was selected as a Fellow of the College of Workers' Compensation Lawyers. Also in 2020, Justice Gurich received the William J. Holloway, Jr. Inn of Court Award. In 2021, the Sovereignty Symposium conferred the Hodges-Lavender Award for Judicial Excellence on Justice Gurich.  She was the recipient of the 2021 Oklahoma Bar Association Neil E. Bogan Award for Professionalism. Justice Gurich was nominated and inducted as a 2021 Fellow of the College of Workers' Compensation Lawyers.  Justice Gurich was featured as a "Woman of Influence" in Edition 34 of LUXIERE Magazine.